| | |
| --- | --- |
| About John White | |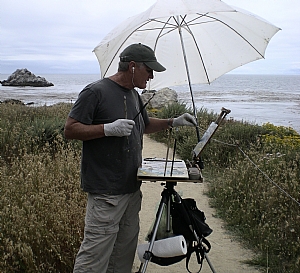 Born and raised in Southern California, John took classes in drawing and painting throughout his childhood and then moved on to study at the Art Center College of Design in Pasadena majoring in graphic design.
After college, John went to work for a number of design and advertising firms in the Los Angeles area before opening his own creative agency in 1989. His company grew from a one man firm to a 30 person agency in the 17 years he had his business, winning numerous awards for his work as well as inclusion in the Permanent Collection of the Library of Congress.
John retired in 2005 to start a new chapter of his life. Today he is enjoying painting, both studio and plein-air, as well as heading up and teaching the advertising program at Otis College of Art and Design in Los Angeles.
Exhibitions and Awards:
2013
Selected as an artist in the 10th Annual Telluride Plein Air event, Telluride, CO, June 2013
Selected as an artist in Los Gatos Plein Air 2013, June 2013
Participating in the 15th Annual Art Auction to benefit the Long Beach Museum of Art, May 2013
Selected as an artist in the annual Laguna Plein Air Painters Assn. "Less is More" Show, May 2013
Participated in the "Springtime Magic" show in Crystal Cove, CA, March 15-16.
2012
Selected as an artist in the annual Wells Fargo "Banking on Art" Show, Laguna Beach, Dec. 2012
Selected as an artist in the Crystal Cove Alliance Store in Newport Beach in 2013
Selected as an artist in the California Art Club's "California Heritage" exhibit, Oct. 2012
Selected as an artist in the 9th Annual Telluride Plein Air event, Telluride, CO, June 2012
Selected as an artist in Los Gatos Plein Air 2012, June 2012
Juried into the Laguna Plein Air Painters Association "Best of Plein Air" Show, June 2012
Selected as an artist in the 19th Annual Carmel Art Festival, Carmel, CA , May 2012
Juried into the Laguna Plein Air Painters Association, "Less Is More" Show, April 2012
Selected as "Artist of the Month" on the Laguna Plein Air Painter's Assn. website, March 2012
Selected to participate in the 30th Annual La Quinta Arts Festival, La Quinta, CA, March 2012
Juried into California Art Club's "Iconic California" Show, Altadena Country Club, January-May 2012
2011
Second Place Award in the SOCALPAPA "Small is Beautiful" Show, Newport Beach. December, 2011
Juried into the annual La Jolla Art and Wine Festival, October 2011
Awarded "Best Coastal Scene" in the City of San Clemente's City Plan Art Competition, September 2011
2010
Juried into California Art Club's "Magnificent Miniatures" Show, Pasadena, CA, December 2010
First Place Award in the SOCALPAPA Plein Air "Aquatics Show", Newport Beach, CA, November 2010
First Place Artist Choice Award in the Ninth Annual Idyllwild Plein Air Festival, June 2010
Long Beach Museum of Art selects "On the Mend" for special exhibit entitled, "Artists Explore Long Beach", Summer 2010
Montgomery Museum of Fine Arts selects and sells at auction "Mailboxes etc" piece, February 2010
Dual Exhibition C.C. Gallagher Gallery, Avalon Catalina, CA , June-August 2009
First Place

Award in the Catalina Island 50th Festival of the Arts Exhibition, September 2008
One Man Show, Long Beach Yacht Club, Long Beach CA, July 2008
One Man Show, Naples Long Beach, CA, July 2007
California Art Club CAC, Pasadena CA
Laguna Plein Air Painter's Association (LPAPA)
Sounthern California Plein Air Painter's Association (SOCALPAPA)